I didn't really know what to think when Target announced

stylist Kate
Young as their latest design collaborator in January. She uses a lot of Rodarte, Jason Wu, and Miu Miu when she dresses her clients (Michelle Williams, Natalie Portman, Rachel Weisz), so I have a general appreciation for her taste and styling aesthetic, but as this is the first collection she's actually designed I wasn't sure what to expect. I guess I was kind of hoping for a pleasant surprise?
Well, the Kate Young for Target lookbook was just realeased, and she's created a line of mostly formal/semi-formal dresses. There are few things I'll probably buy and a lot I won't. The good, bad, and awkward are below:
Kate Young for Target: (l to r) Open-back dress in Black Polka Dot print, Beaded dress in yellow, Strapless Ruffle dress in black, and Peter Pan Collar dress in Gem City print
I'm loving the four looks pictured above! The yellow cocktail dress and the Peter Pan collar dress have an early-60's,
Mad Men
feel to them, and the long, polka dot dress was actually the first thing that jumped out at me from the collection. It's kind of impractical but it's cute, which is like the running theme of my wardrobe. And the layered tulle dress is amazing, if a bit Erin Fetherston.
Kate Young for Target: (l to r) Peplum dress in Rose print, Beaded Colorblock dress in Tan/Black, Jumpsuit in Black, One-Shoulder dress in Black Star print
These are all okay for me. The peplum dress has a Lanvin feel, and I actually am liking the power-bitch jumpsuit, but as a whole, these looks are kind of formal (or semi-formal, ha) for me...
Kate Young for Target: The Ugly Shit
Not really feeling any of these. Decidedly junior's, very homecoming.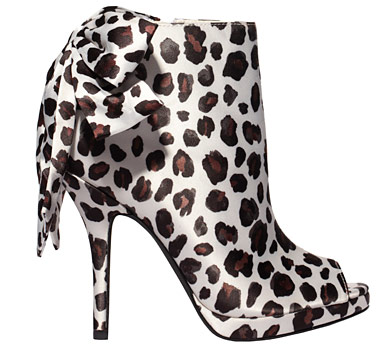 These are so ostentatious that I can't help but want them? I don't know, they could be horrible in person, but I'm considering ordering them... Guess we'll see in April!